YEAR 2021 IN REVIEW
charities
/
January 20, 2022
YEAR 2021 IN REVIEW
We look forward to the end of each year for two reasons: we get to reflect on our collective achievements of the year, and we eagerly anticipate what the upcoming year will bring. In light of how dramatically the world has changed in the last two years, this exercise in reflection and optimism has an even more profound impact. We have deep gratitude for all our relationships and teammates who bring exceptional work to fulfillment. Read on to see a selection of the work we built and took part in and let this be an inspiration for 2022!
WHITE HOUSE | NORMANDY PARK
Normandy Park Timeless Beauty. Perched above the waterline & overlooking a mesmerizing kaleidoscope of endless views, the property offers an unparalleled blend of sophistication & simplicity, charm & comfort. From the street, the house looks private & inviting, combining country cottage & modern farmhouse. Open the front door to a fresh & cozy interior where walls of picture windows lure the eye to the striking vistas. The generous living areas feel open & flow seamlessly into the outdoor entertaining spaces. A versatile floor plan perfect for the main level lifestyle. Luxurious & meticulously curated finishes: honed marble, natural oak floor, spa-like bathrooms & chef's kitchen. Welcome to this legacy waterfront home w/Lot A beach rights.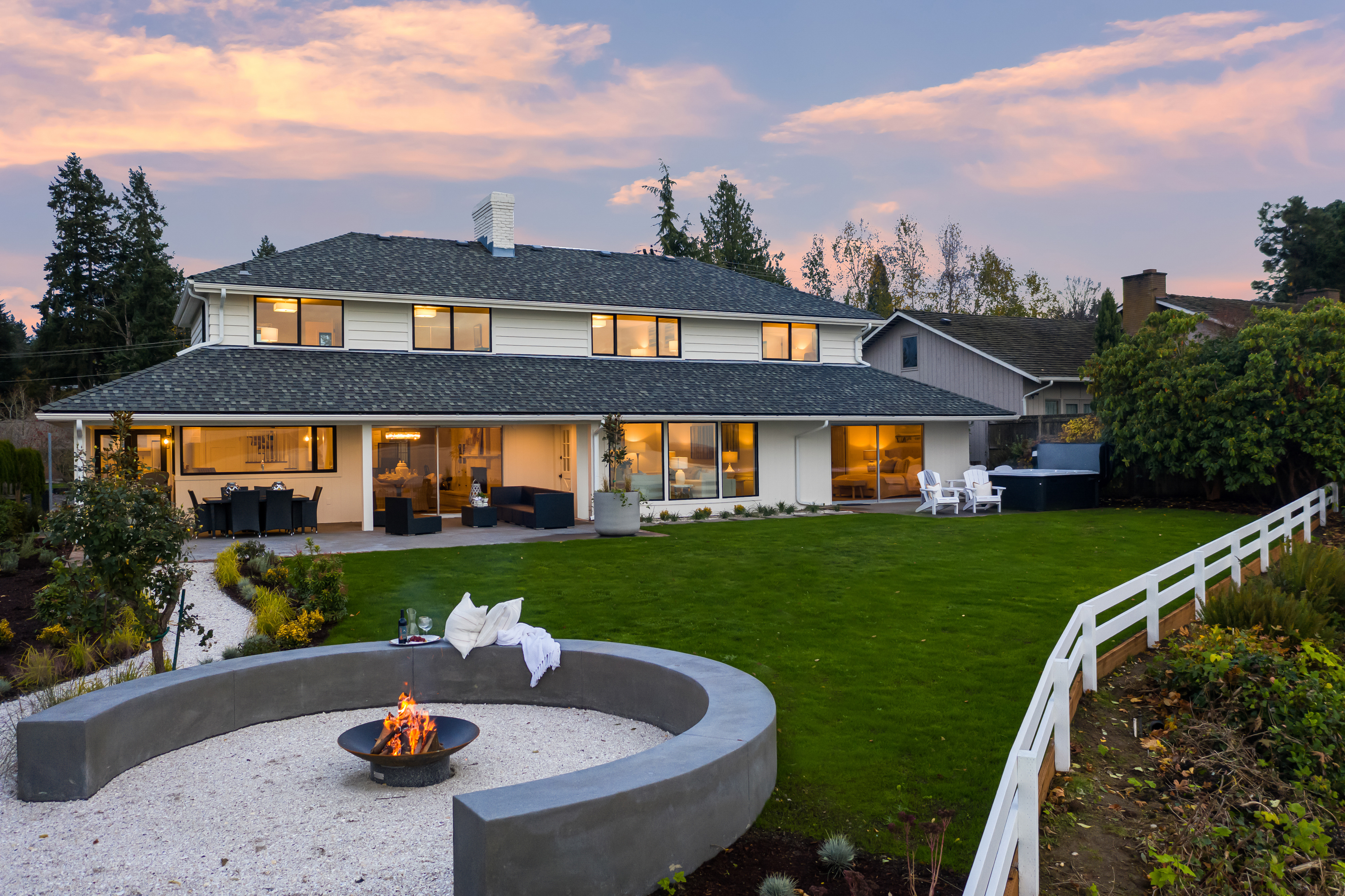 MADRONA ESCAPE | MADRONA
Escape to your own private waterfront acreage in Normandy Park with LOT A rights. Once in a lifetime opportunity, crafted by a team of Architects and Interior designers this beach home is exquisitely finished. A Salmon stream crosses the properties' tidelands and teems with wildlife. Perfectly perched in a grove of Madronas you avoid the sea spray but get to enjoy the views and nonstop birdlife activity including a pair of Bald Eagles that roost in the tree canopy. A versatile floorplan with wide-plank hardwoods has a luxury view ADU and view master. Incredible home office or gym with a view and privacy even from within the home gives you options for whatever your lifestyle.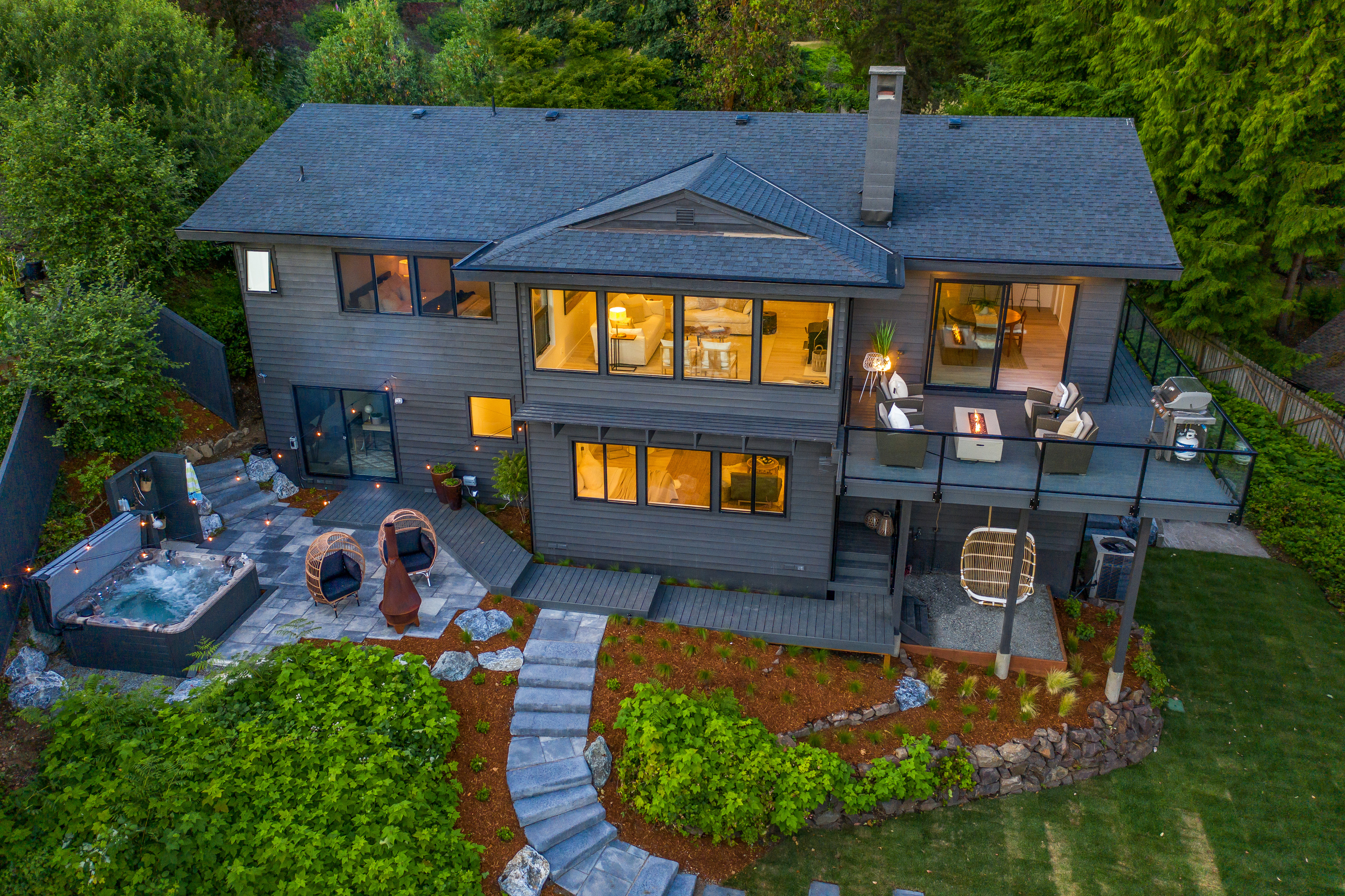 / Full Project Details /
BOOK CLUB | NORMANDY PARK
The Book Club uses a variety of materials to transform a small backyard into an urban oasis. the space comprises a lounge space with fire as well as a covered dining and BBQ space using an overhead louvered roof. The use of synthetic turf, native and adapted plant materials make this space the low maintenance, private, getaway our client was looking for.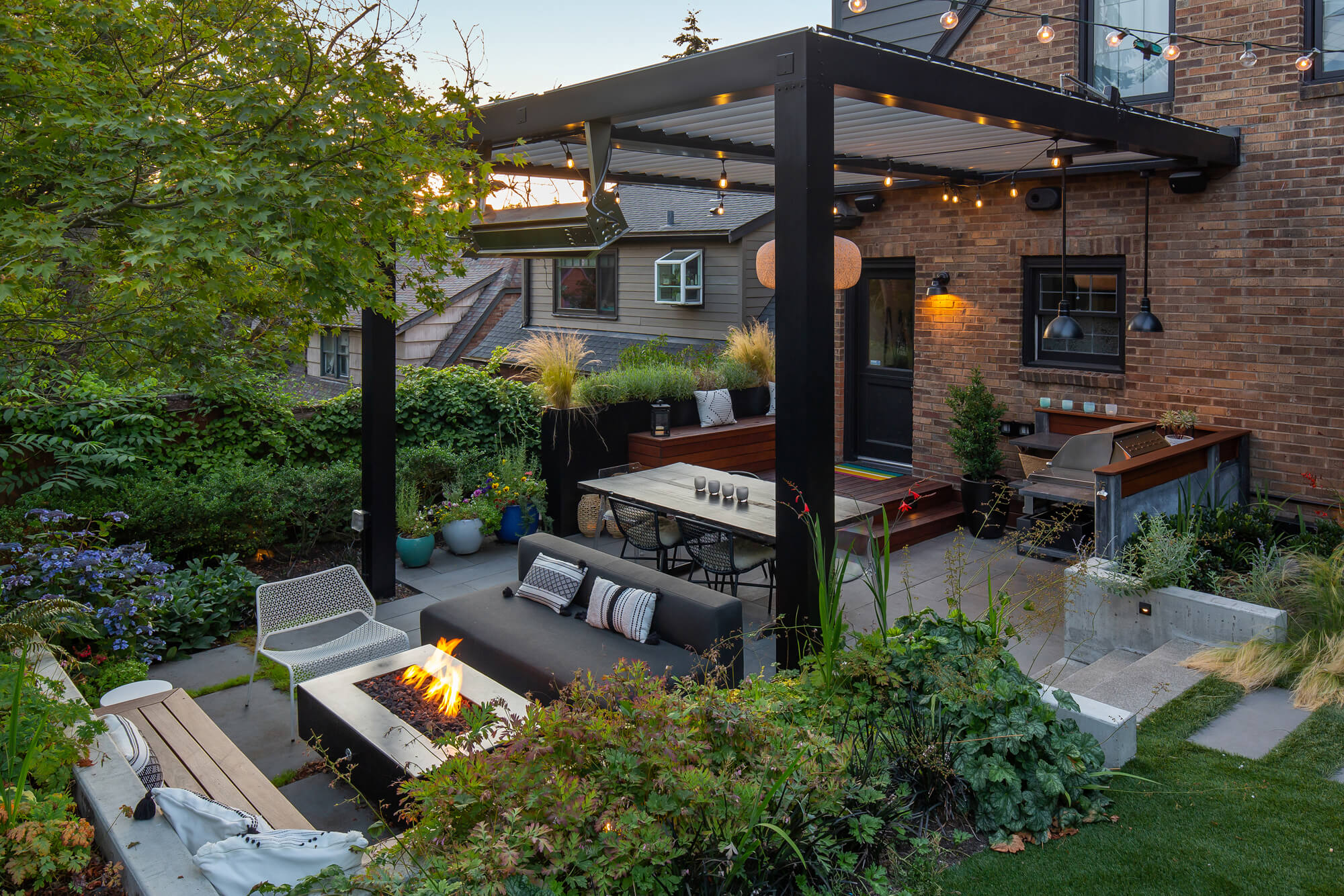 B&B GARDEN | NORMANDY PARK
This Normandy Park home uses an exterior living space and colorful plantings to bring this modern farmhouse to life. The space uses elevation change to create multiple usable spaces in the backyard including an elevated deck to enjoy the views of the Puget Sound.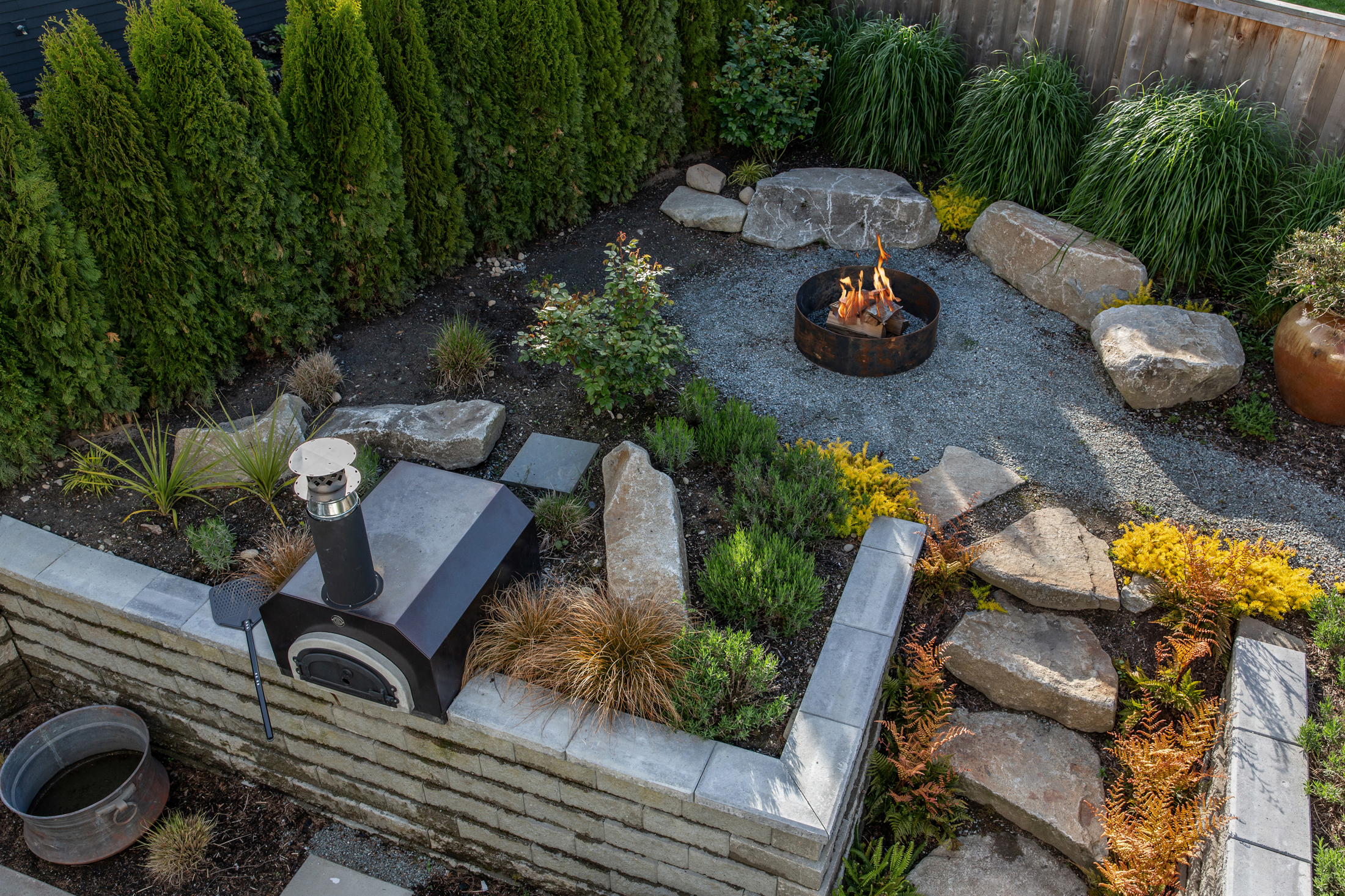 QUEEN ANNE CUSTOM
Its all in the details! This Queen Anne project features a custom designed and constructed outdoor kitchen with Ipe hardwood cabinets and concrete "waterfall" countertop. The entry gate features a simple, modern design of powdercoated black steel.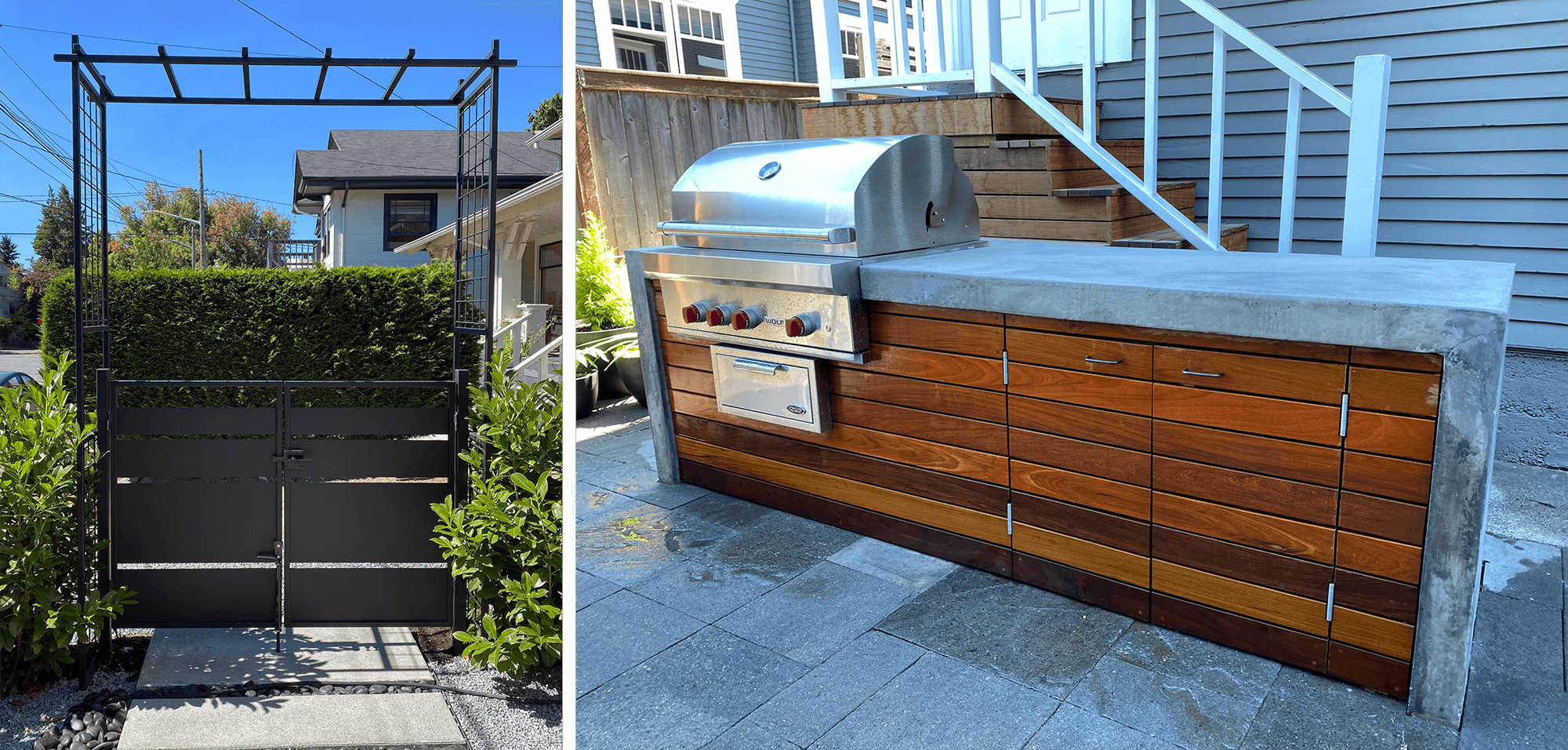 / Full Project Details & Photos COMING SOON /
PNW Farmhouse
Terrain developed this property with 3 homes intended to leave legacy properties in the city of Normandy Park. With an architectural play on a modern industrial farmhouse, this luxury home incorporated a large guesthouse, rooftop viewing deck located on the highest natural elevation in the city, and custom water feature. Using the regions native and adapted plants, the landscape transitions from a PNW forest in the front yard to a coastal bluff in the back. A large lawn and outdoor entertaining space maximize sweeping views of the Puget Sound.
Stay tuned for more project photos as the landscape grows!
/ Full Project Details & Photos COMING SOON /
Orca Entertaining
Terrain handled this year-long major remodel on this bluff home with careful architectural planning. The large inside entertaining area was seamlessly meshed with the exterior ipe deck. The 1.5 acre site was designed to create multiple outdoor rooms for large scale entertaining and private relaxation spaces. The design was kept simple with Ipe hardwood, architectural concrete, large format porcelain pavers and a all-season louvered roof.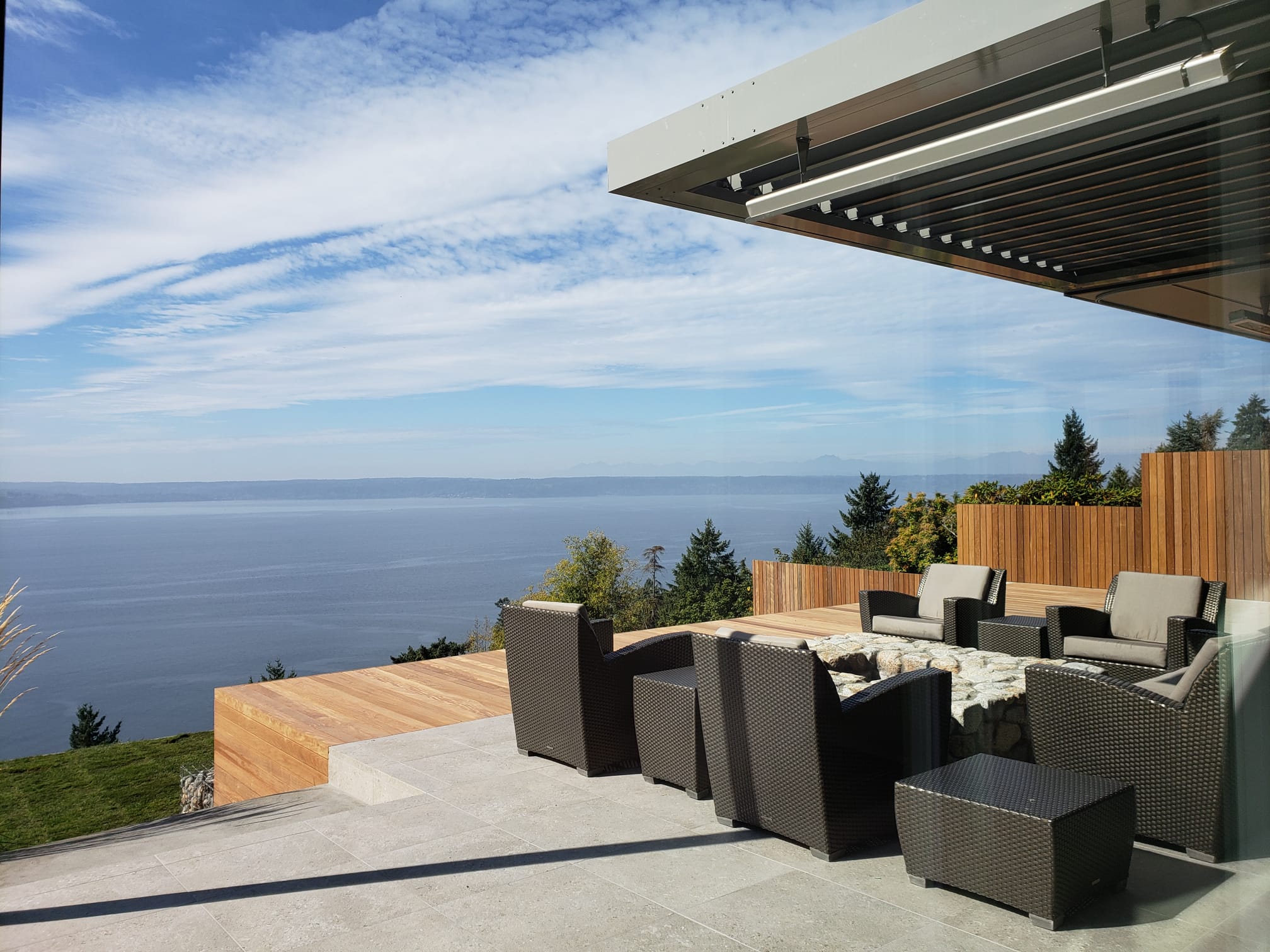 / Full Project Details & Photos COMING SOON /
From all of us here at Terrain, we wish all of our friends and colleagues a safe, happy, and prosperous new year!