MOST POPULAR PATIO MATERIALS
landscaping
/
August 13, 2019
MOST POPULAR PATIO MATERIALS
Choosing the right Material for your Patio!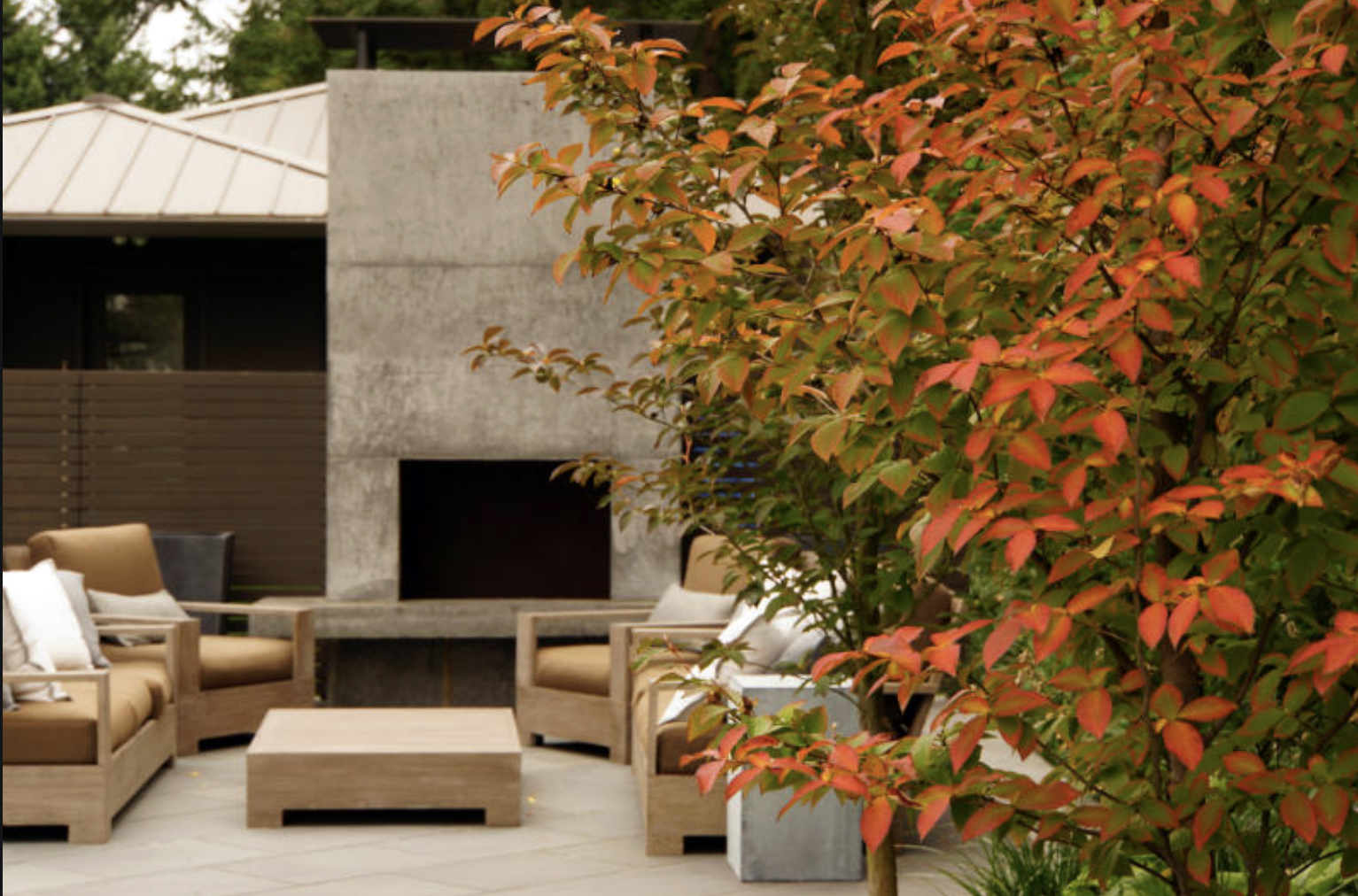 Just the thought of a patio evokes images of sun-drenched afternoons, relaxing evenings, cocktails and some friends & family time. Have you finally decided to have a patio, or redo the existing one for summer? But what material do you choose to build your patio? Concrete or stone? Brick or pavers? It's a significant choice.
We've put together a guide evaluating some of the most popular materials to help you make this decision and build the right patio for you.
CONCRETE
It would be hard to find anything more versatile and adaptable than concrete for a patio floor. This time-tested recipe combines a mixture of sand, water, cement, and gravel and offers even more options than brick.
Concrete can be stamped with any pattern or dyed with any coloring agent. In addition, a concrete patio could be formed in any shape or size. Better yet, it is essentially the cheapest way to achieve a hard surface outdoors, making it a compelling choice.
By using well-constructed forms, concrete can mold and conform to nearly any surface shape. It's durable and easy-to-maintain finish can be:
Smooth
Stamped
Brushed
Scored
Colored or tinted
Decorated with inlays
Painted
Surfaced with other materials, including pebbles (aggregate)
Patterned
We can also provide you with a turnkey demo, excavation and concrete installation.

FLAGSTONE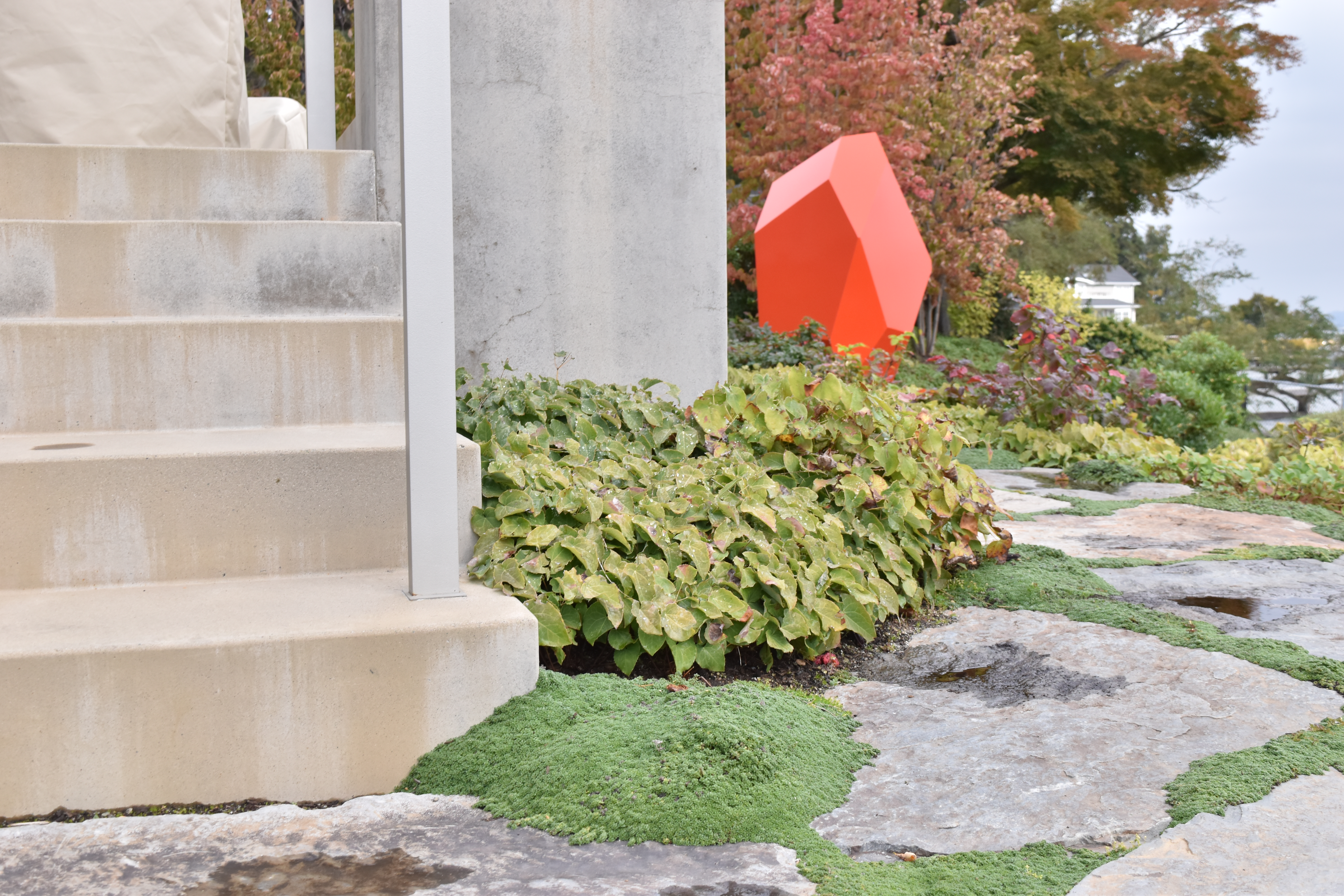 For a completely natural look, nothing beats natural stone for a patio. There are many different types of natural stone to choose from including flagstone, slate, bluestone and limestone. Stones also offer some variation in size and color for a truly unique look.
Flagstone types include:
Sandstone
Limestone
Bluestone
Quartzite
However, flagstone pavers have the distinct advantage of being a very low maintenance flooring option in the future. This is due to its durable and highly dense characteristics, making Flagstone a very appealing option for not only homeowners but also architects and builders.
Flagstone pavers will create and add beauty to any landscaping project around your home! There is the right kind of flagstone for any type of application or design.
If you choose this or any other material, Terrain has the ability to handle your project from excavation right through to final restoration!

BRICK
For thousands of years, brick has been made by firing a mixture of clay and other materials in a kiln. It is sturdy, lasts a long time, and has a neat, classic look that goes with many landscape and architectural styles.
Depending on the type and the pattern you choose, brick can be equally at home in a cottage garden or a grand estate. With its warm hues and inviting texture, brick harmonizes well with plants and with almost any other paving or building material. Its handy size and uniform shape make it relatively easy to design with and install, and it's available almost anywhere!
Keep in mind, though, that a brick patio can require some additional maintenance. Bricks are porous, absorb moisture and can crack over time. Your brick patio may require some repairs over the years but will always retain that colonial charm.
PAVERS
Pavers are typically made from concrete, clay, stone or even recycled plastics. Although pavers are manmade, some are manufactured to look like natural stone, brick, cobblestone or even flagstone. They are modular pieces that are all the same thickness so they go down easily and quickly saving you time and money!

TILE
It's best to use unglazed ceramic tile for a patio floor, leaving the glazed decorative tile for edges and accents. Glazed tile has a smooth finish, and when it gets wet, can create a slippery, unsafe environment.
The three kinds of unglazed tile for patio surfaces are:
Porcelain
Terracotta
Quarry
Sealers and coatings or enhancers will protect the outdoor tile from stains, wear, and moisture while retaining or enhancing their natural color.
Whatever your choice of paving material, it's wise to consider the color, texture, and style of the surrounding plants and structures. Make certain, you like the way your pavement looks next to your home, fence, garden walls, and plants and with any furnishings you'll be using!
CUT STONE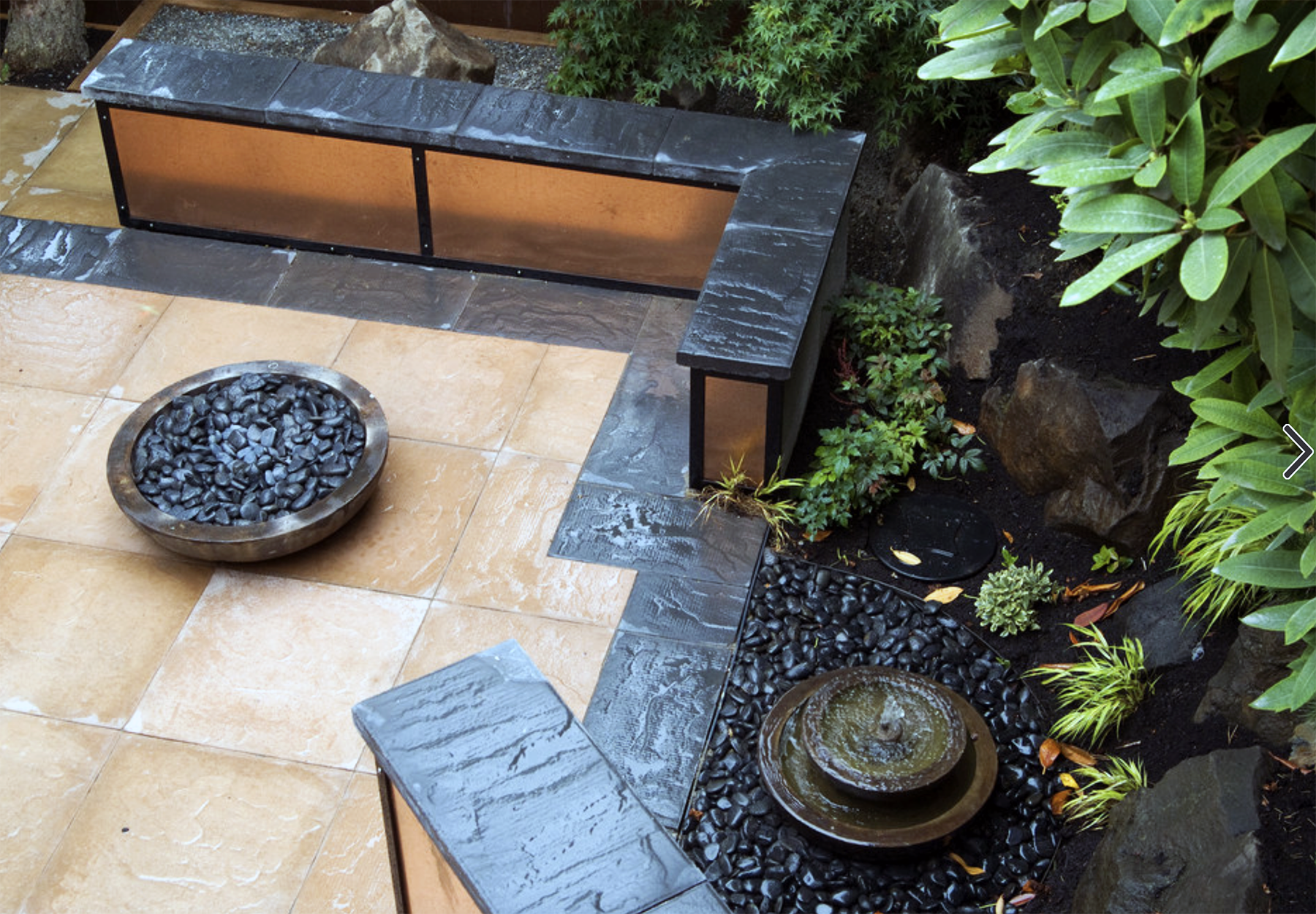 A new stone patio can completely transform the look of your property. In addition to looking fabulous, a quality stone patio allows you to get the most out of your outdoor living space while increasing your home's value and curb appeal.
Also known as stone tile, cut stone is similar to flagstone although it is cut into square, rectangular or pattern shapes. Because of its geometric form and layout, cut stone is used for more formal applications than uneven flagstone. It has smooth faces and square edges, and can be laid in even rows or spaced apart, with a ground cover or loose material filling the gaps.
Granite
Marble
Limestone
Travertine
Slate
Blue stone
Sandstone
Phyllite
LOOSE MATERIALS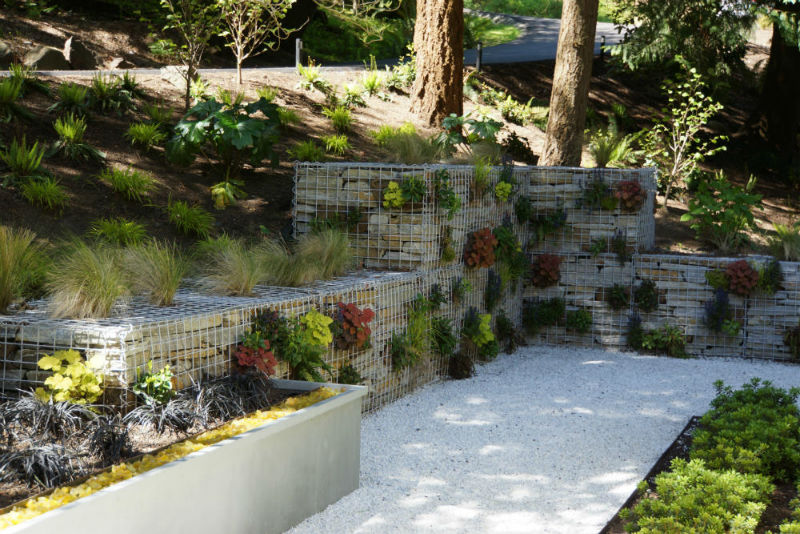 Loose materials used to be popular for small areas of the yard however now, they are gaining popularity for whole patio surfaces, especially in regions that are experiencing drought. Homeowners and dwellers are replacing thirsty lawns with more water-wise alternatives, which includes loose materials. Also, they are fairly inexpensive & easy to work with.
Examples include:
Pea gravel or crushed stone
Aggregate stone
Sand
Rubber mulch
Bark mulch
Decomposed granite
Our hardscape services include a broad range of stone, sandset and concrete. A hardscape project installed for longevity includes a properly done sub base and prep. Terrain's years of experience in installing structural foundations has taught us a lot in what makes a properly compacted sub base – the work you don't see but will soon notice in a few years with our wet weather and damp soil. Combine that with our drainage skills and stone artisans and you have an unbeatable combination of skillsets. We have access to quarry direct suppliers and specialty manufacturers to please the most discerning taste.
Contact Us Today to Begin Your Dream Project!