SUN SHADING WITH EQUINOX
landscaping
/
July 02, 2019
SUN SHADING WITH EQUINOX
PERMANENT SHADING FOR YOUR PATIO
WHY EQUINOX
The Equinox® Louvered Roof is manufactured with quality elements and precision engineered for exclusive comfort and control. Equinox® enhances any outdoor living area through uncompromising versatility and style. Our patio system is strong, conforming to most wind and snow load requirements. Equinox® Louvered Roof is designed to deliver a premium experience through premium quality allowing you to transform any outdoor space.
WHY LOUVERS
Louvers have unmatched versatility, convenience and low-maintenance durability. They can be placed anywhere within their range of motion for the desired amount of protection or ventilation, and they're easily integrated into smart-home technology. Enjoy sunny rays during a beautiful spring day or block out the rain to keep dry – operation has never been simpler. And with such a contemporary look and feel, there's an option to complement any architectural style.
WHY CHOOSE EQUINOX® FOR YOUR HOME
Whether entertaining friends or just relaxing by yourself, an Equinox® Louvered Roof completes your outdoor living area. With the touch of a button, louvers rotate to provide full sunshine, filtered shade or rain protection. It's the ideal enhancement to any home and is built to last for years to come.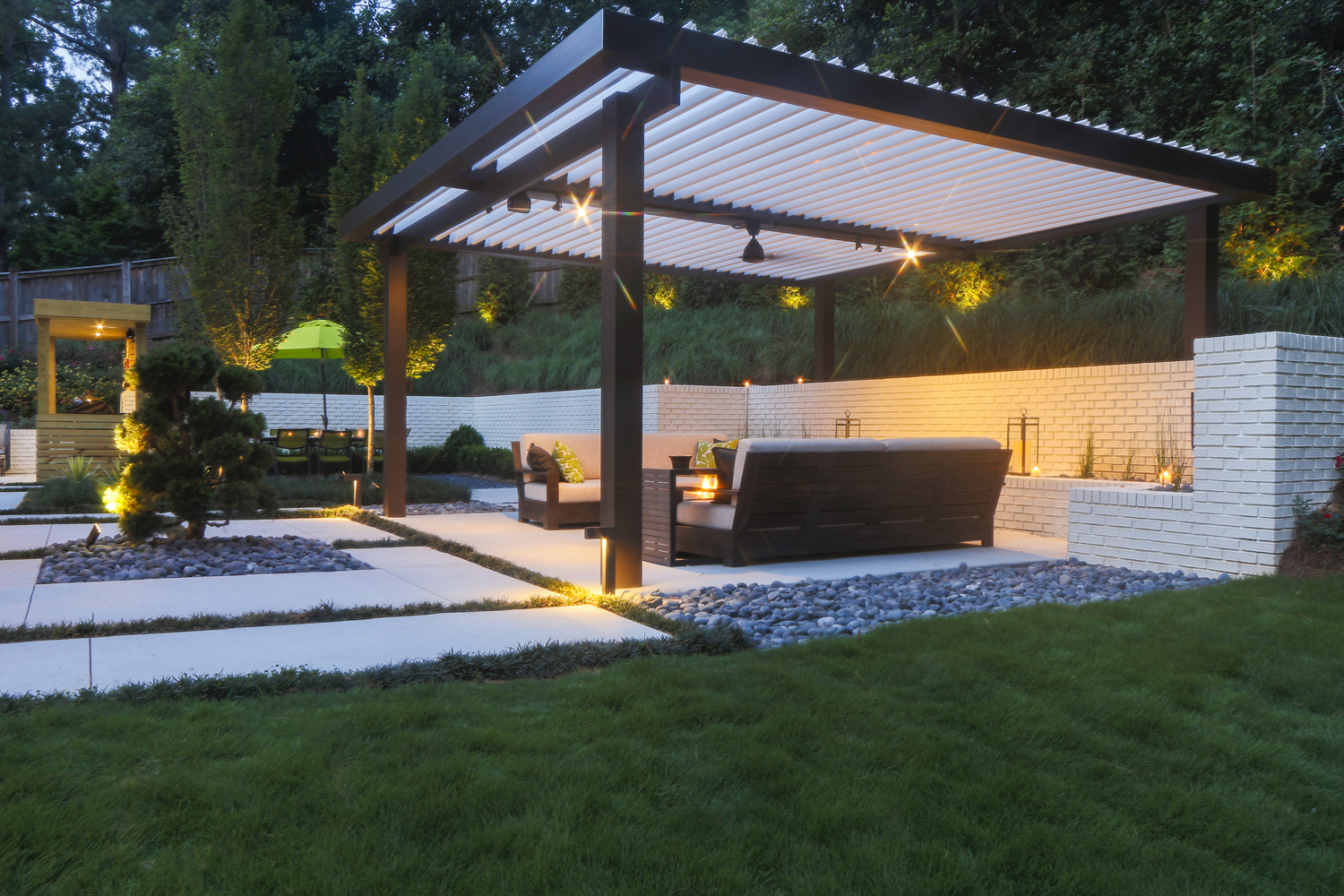 Indulge in the height of sophistication, the freedom of outdoor entertaining and relaxing in style on your schedule. The Equinox Louvered Roof is an innovative patio cover that, with just the touch of the button, transforms your day and view of the world. Whether entertaining or relaxing, Equinox Louvered Roof completes your outdoor environment. The louvers move at your command to allow full sunshine, filter shade or provide solid rain protection. It's the ideal enrichment to any home, built to last. INSPIRE HERE >

Another equinox leaves the shop to be installed!
Contact us for more ideas for your Patio! We have the skillsets and fabrication shop to handle the full range of your landscape elements.