PURCHASING AN OUTDOOR FIRE PIT
landscaping
/
July 31, 2019
PURCHASING AN OUTDOOR FIRE PIT
Here's what to consider about material, style, fuel type, location, cost and safety when adding an outdoor fire pit.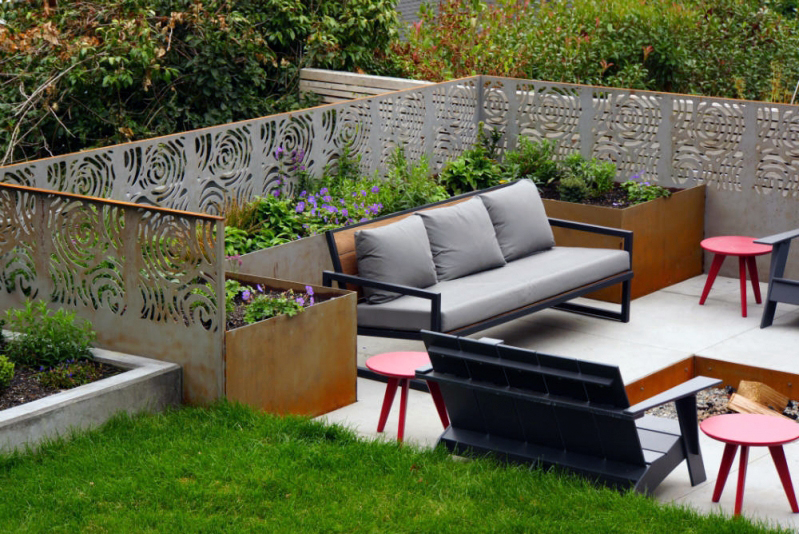 YOUR Local RegulationS
Before you commit to buying a fire pit, check with your city building codes and local authorities for regulations pertaining to outdoor fire pit placement or anu restrictions on burning wood.

There are often regulations regarding fire pit placement for safety, such as siting a fire pit at least 10 feet away from buildings and fences. Some counties may require a site inspection by local fire officials to check that your proposed location is fire-safe. If counties regulate fuel type for environmental reasons, skip wood-burning models and opt for smoke-free ones that run on propane or natural gas.
LOCATION
Building regulations will dictate where your fire pit can and cannot be in your yard, so check those first. Other things to consider when choosing a location for a fire pit include space constraints, fuel type and how you'd like to use the fire pit.
DECIDE ON FUEL
Most fire pits are either wood-burning or use gas/propane, and it's important to decide on which type you want. One of the biggest benefits of a wood fire pit is that it can be much more cost-efficient than buying propane tanks constantly. Moreover, wood-burning pits will also smell and look like a real campfire. (This goes back to Your Local Regulations)
STYLE
Fire pits come in a range of shapes, sizes and designs that can fit with any backyard style and homeowner needs. The challenge is narrowing your options and finding the right one for you. Popular pits include ones that feature a fire bowl and square versions that resemble low tables. If you want a fire pit that can be moved around easily, try a bowl version, however - a good place to start is to identify a fire pit that coordinates with your existing backyard design in style, color, shape or material.
MATERIAL
There are a lot of material options when it comes to the standard fire pit. Price will vary based on the material that you choose. The materials that we see the most are brick, stone, concrete, stainless steel, and cast iron. These metals hold up well under high heat and are also rust resistant!
DIMENSIONS
Fire pit sizes range from small portable models to larger built-in styles. Choose a size and style that fits with your budget and location. Generally, fire pits range in size from 24 to 45 inches in diameter. Small ones are usually 20"-25" while the largest pits are about 40"-45" in diameter. For the most part, smaller fire pits are usually ones that consist of a bowl, which make them perfect for compact decks and patios.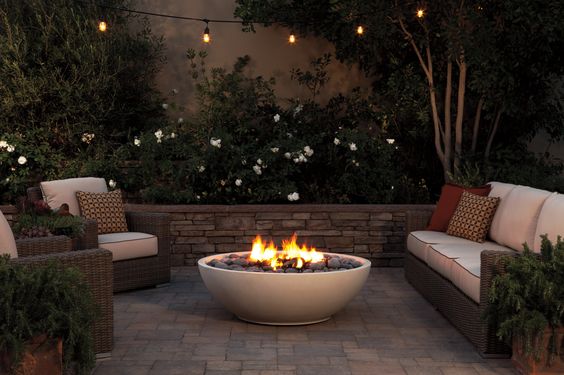 Mezzaluna artisan fire bowl by Eldorado Stone
COST
Fire pits have a wide range of costs. With a fire pit made using stacked stones in a ring or a basic model you will be able keep the price under $100, but freestanding fire pits made from materials such as stone, concrete or powder-coated metal can run from $300 to $2,000 or more, depending on design. When it comes to custom and built-in models - budget $1,000 to $5,000 or more.
CONTACT US IF YOU WISH TO ADD A BEAITFUL FIREPIR OR FIREPLACE TO YOUR PATIO AND OUR TEAM OF PROFESSIONALS WILL HELP YOU MAKE THE BEST DECISION!