KOI POND
landscaping
/
April 03, 2018
KOI PONDS
WHAT IS A KOI POND?
Koi Ponds can be thought of as "Swimming Pools for Koi" or simply big fish tanks. There are no rocks, gravel, or aquatic plants in the pond that could potentially harm the Koi. The Koi Pond is constructed with straight down sides (no steps) to prevent any predators from walking into the pond and trying to make a meal out of the Koi.
The Koi Pond has a minimum depth of 4', usually 5'-6' deep, but can also be much deeper. It can also feature Bubble-Less™ external aeration technology for clear, unobstructed viewing of the koi.
WHY HAVE A KOI POND?
Koi Ponds have an aesthetic appeal, nobody can deny the aesthetic appeal that these ponds can bring to your property. It doesn't matter, whether you have hired a high-end designer to get these ponds designed or you may have designed the ponds yourself, a Koi pond can add an unparalleled elegance and style to your property or garden.
They are also nature friendly, when you add a Koi pond to your backyard, it will also encourage the growth of eye-catching and colorful plants near the pond that will attract butterflies and birds, thus creating your own natural and peaceful space.
Another great reason to install a Koi Pond – it improves your real estate value. Any real estate agent will tell you that having a Koi pond in your backyard can enhance the marketability and real estate value of your property however the value of your property is dependent on the individual buyers interested in your property.
INDOOR KOY POOL
Construction & Build // Terrain
Design // Allworth Design
GC // Schultz Miller
The small indoor Koi pool allows for the perfect backdrop for the indoor pool cabana and hot tub. The waterfeature provides just the right amount of ambient noise. The structures design provides a seemless indoor outdoor look and feel.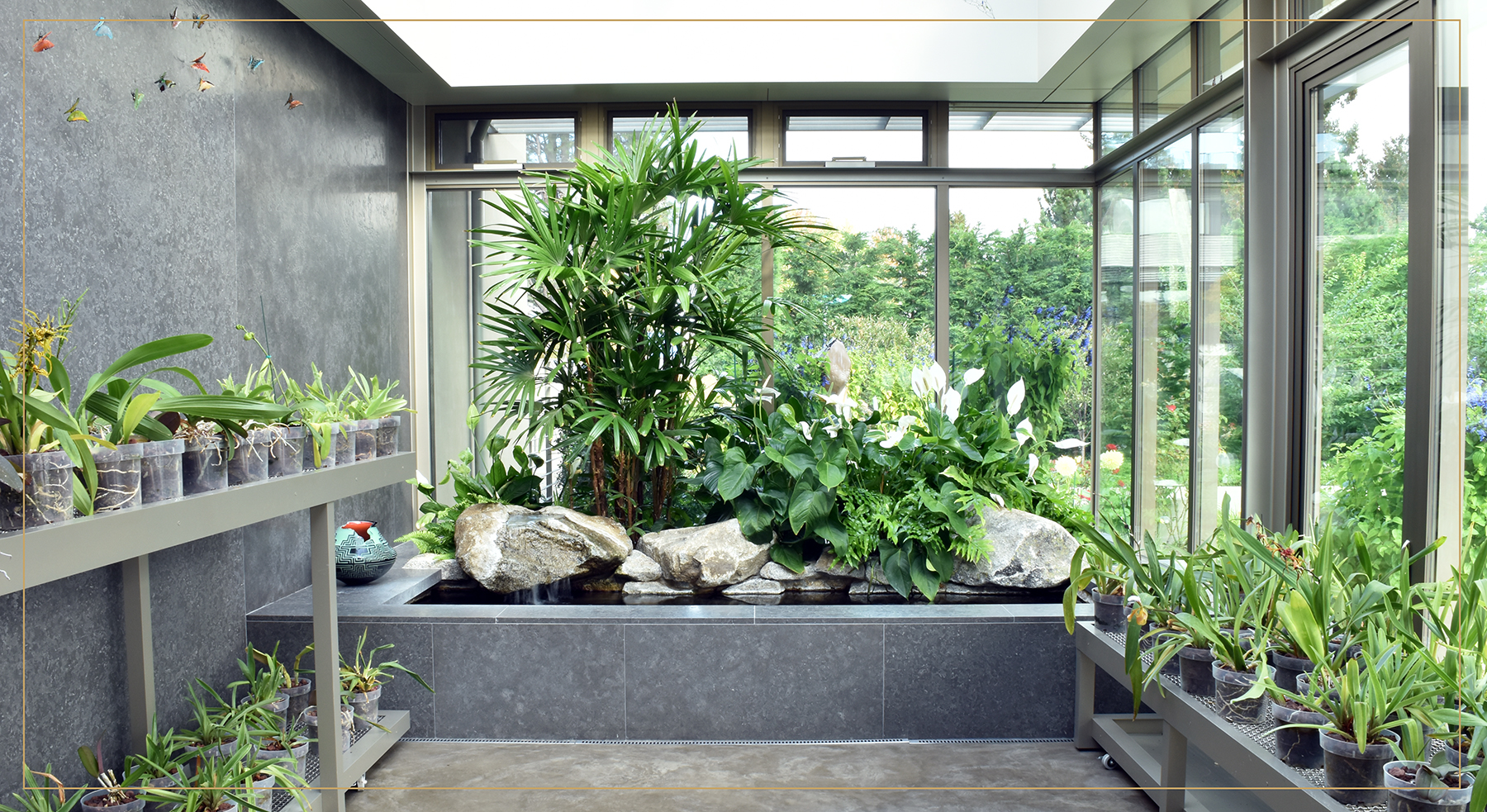 See More From This Project > HERE
KOY POND
Construction & Build // Terrain
Design // Terrain
This install featured a custom built koi pond using concrete gunite construction that allows for a depth of over 8' deep. The pond is stocked with beautiful Koi fish that are over 25 years old. The steel circular hoops create an inviting pathway leading up to the pond edge. The idyllic setting is the ideal retreat for the homeowner's jet setting lifestyle.
See More From This Project > HERE
Terrain now offers landscape design in addition to our installation services. Providing comprehensive design services from initial consultations to design development and any required engineering and permit facilitation. Taking a global approach to our design style - Terrains owners have traveled the world extensively, establishing an impressive network of suppliers, consultants and landscape architects. We believe the world is getting smaller and faster and the traditional way of implementing high end landscape design is out of date…
Take a moment to browse our Portfolio to see samples of some of the work we have done!