DESIGN & FUNCTIONALITY
landscaping
/
February 11, 2021
GET CREATIVE WITH TERRAIN
The design and construction of an outdoor space can range from a simple square in the backyard to an elaborate layout of paving amidst complex outdoor living spaces. It can be composed of a range of materials. Terrain's specialized fleet of equipment is at your disposal to help handle any type of bulk material or difficult to move items.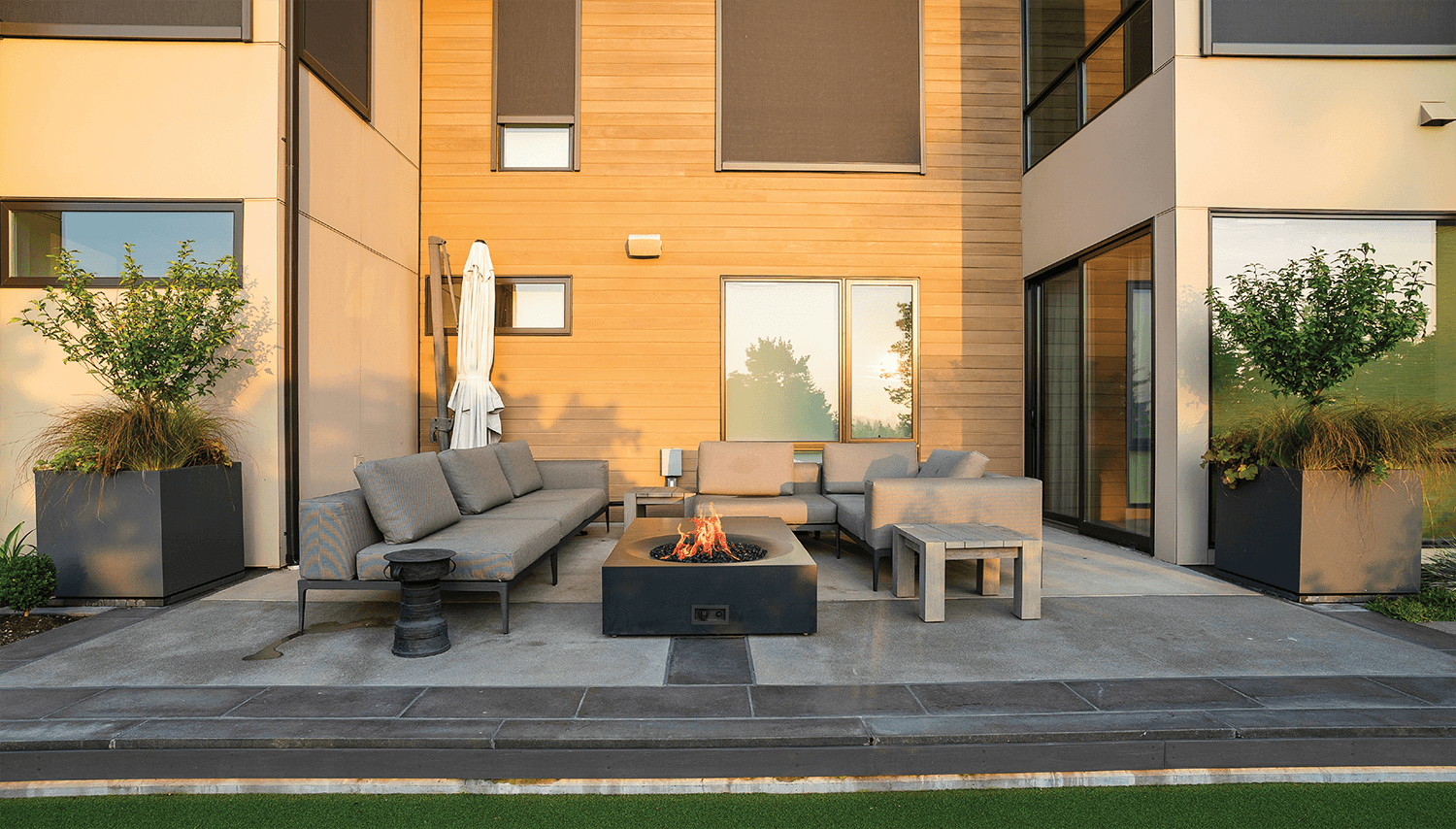 Photo: East Side Retreat /with Williamson Landscape Architecture and Coburn Construction /

Design criteria include your specific requests and since it will provide the foundation for your outdoor living space, it will need to be durable, well-constructed, attractive, and functional.

--

ZONE YOUR SPACE

Clever furniture arrangement is all it takes to establish a variety of uses in one outdoor living space. Design your lounging area so you're ready for unexpected socializing. Modular lounges that seat large groups and are comfy to lie on offer excellent flexibility. For a cohesive feel, carry your indoor decorating style outdoors, with chic upholstery and accessories.

CONNECTING TO THE INDOORS

Outdoor living spaces that are easily accessible to indoor rooms are the most likely to get used. So when you're designing your deck or patio, try to locate it in a spot that's in a traffic pattern or in a place that offers refuge, such as off the master bedroom or living room.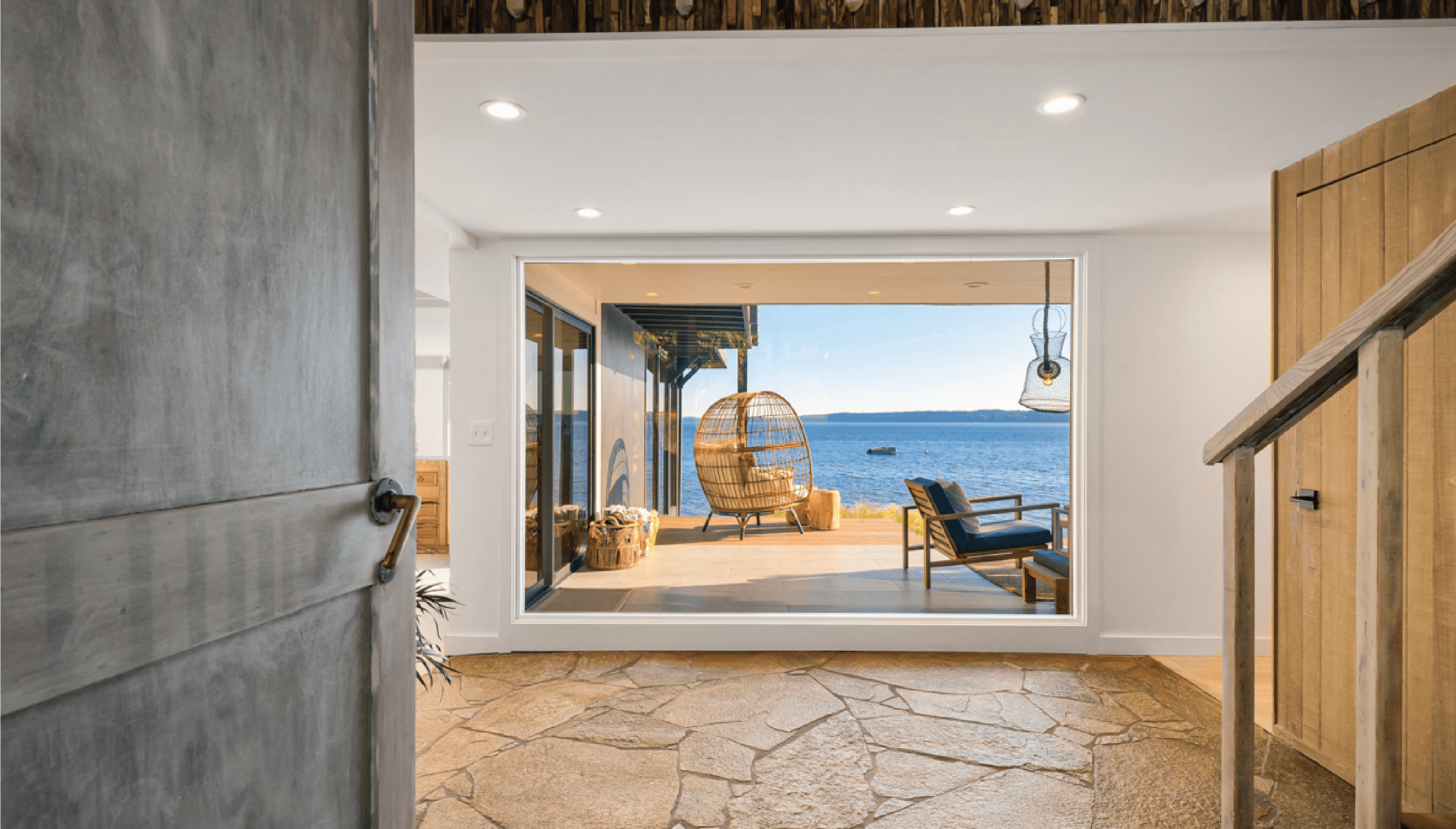 Photo: Beach House / Photography by Thomas Samuel Media /
SUSTAINABLE DECK
The options are endless in building outdoor entertaining spaces, but it makes the most sense to source sustainable materials to ground your feet as you transition from indoors to nature. We suggest choosing the good old wood. Wood is a renewable material, can be recycled, stained, and painted. A wood deck will last you a lifetime if well maintained.
However, If you are looking for a deck that is fuss-free, we suggest using Composite Boards. They have a variety of different styles and are very durable. They are a sustainable solution that makes use of organic material with recycled or renewable plastics.
Still looking for something different? Aluminum is also an increasingly popular sustainable building material for its low cost and versatility and looks great in both modern and rustic applications.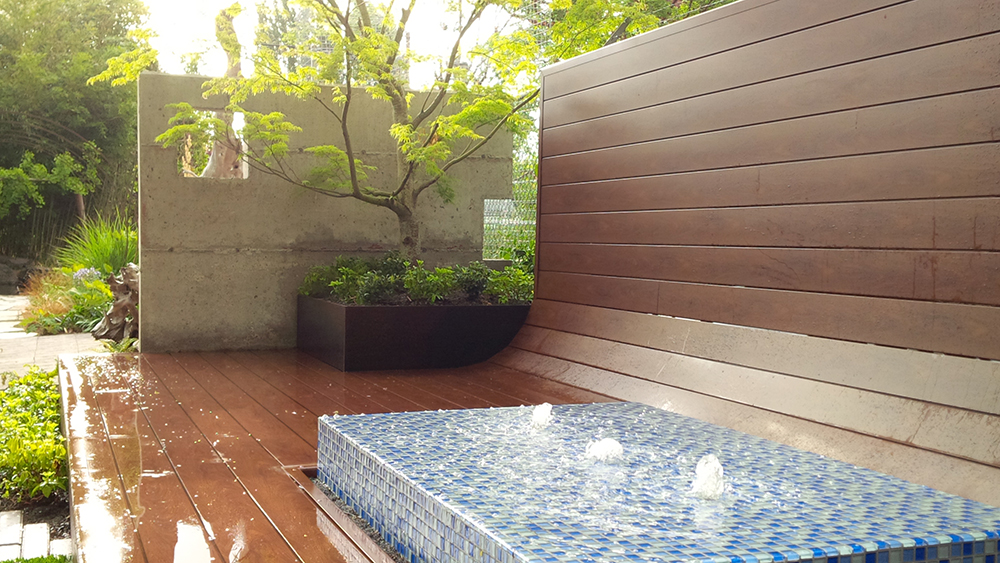 Photo: Curved Deck with Powdered Aluminium / using Knot Wood PNW /
SUNSHADE / RAIN COVER
Outdoor areas don't have to be all about soaking in the sun. Sometimes it's nice to relax in a shady spot, shielded from the harsh rays. There are many ways to bring shade to an outdoor space that can also protect you from rain. One of our latest beloved products is an Equinox® Louvered Roof.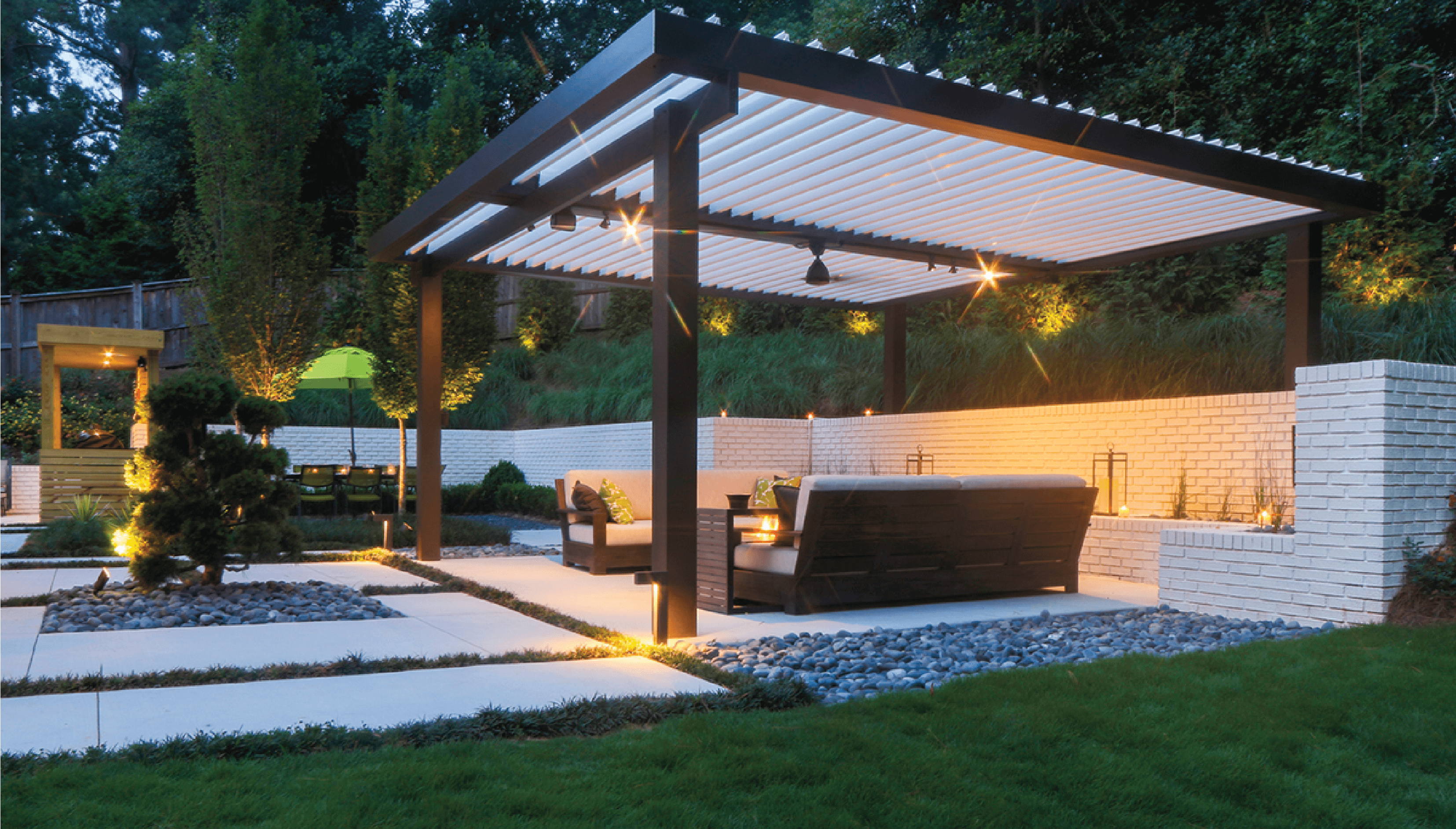 Photo: by Equinox

Whether entertaining friends or just relaxing by yourself, an Equinox® Louvered Roof completes your outdoor living area. With the touch of a button, louvers rotate to provide full sunshine, filtered shade, or rain protection. It's the ideal enhancement to any home and is built to last for years to come.

FUNCTIONAL LIGHTING

Outdoor lighting is mostly used for decorative purposes to light up certain parts of the garden, add atmosphere and enhance the beauty of your property.

However, we also must consider the specific locations of the light to not only be decorative but also functional for areas such as the outdoor kitchen and dining. If you're not using a deck or patio after the sun goes down, you could be missing out on a whole lot of fun. After all, there's no better time to enjoy the cool evening breeze and just unwind from the stress of a long day.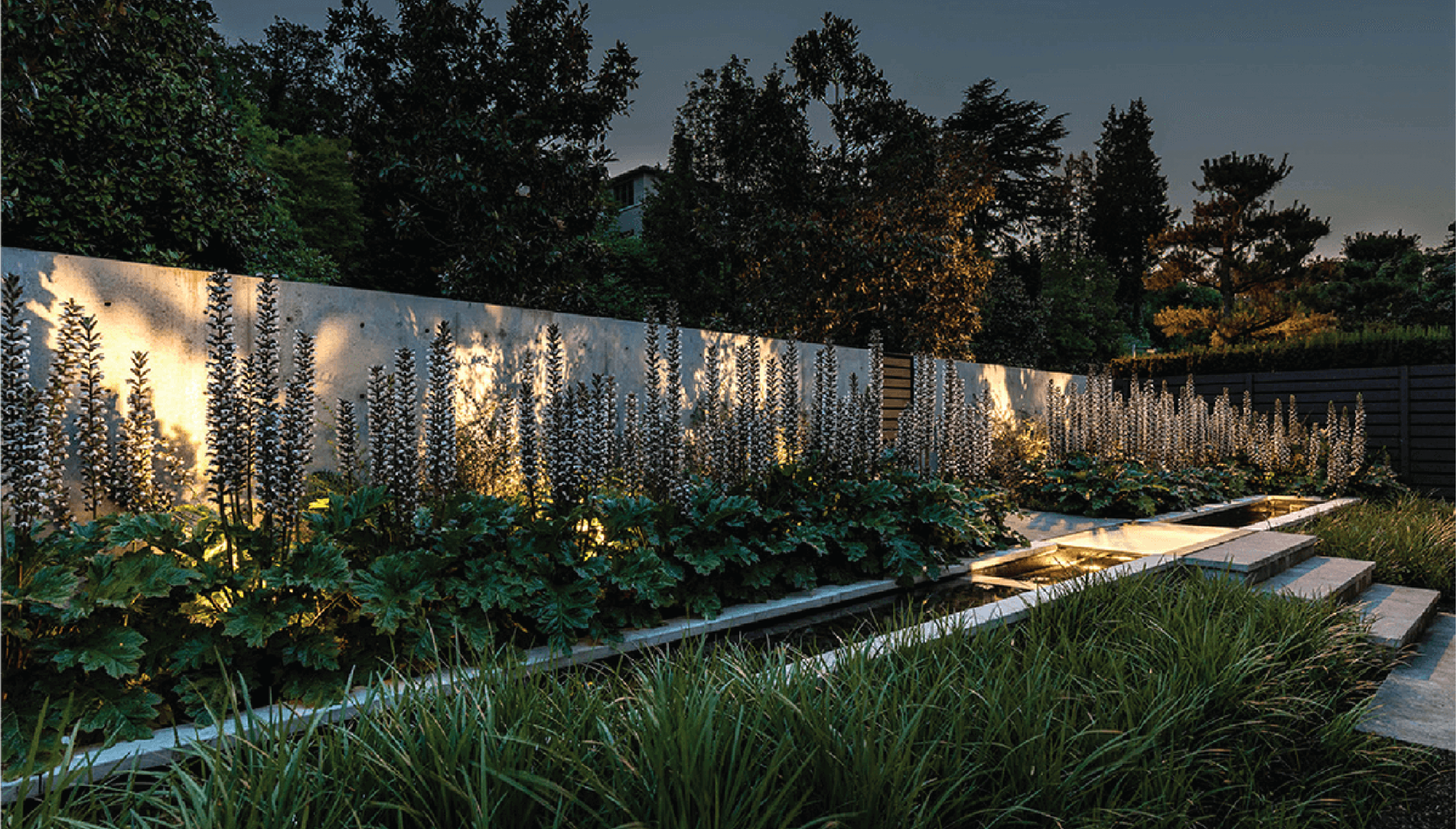 Photo: Madison Modern / with SCJ Studio and McKinney Group, Inc / Photography by Miranda Estes

Terrain can help you select, purchase and install LED lighting that incorporates into your design.

CLEVER OUTDOOR STORAGE

We all know what a shed is, but let's be honest; they aren't for everybody! If you prefer a more contemporary garden aesthetic, or want to keep your garden storage ideas a little more subtle, for example, the last thing you'll want is a ruddy great wooden shed taking up lots of room!

Terrain can build a custom storage space that will make a great addition to your patio!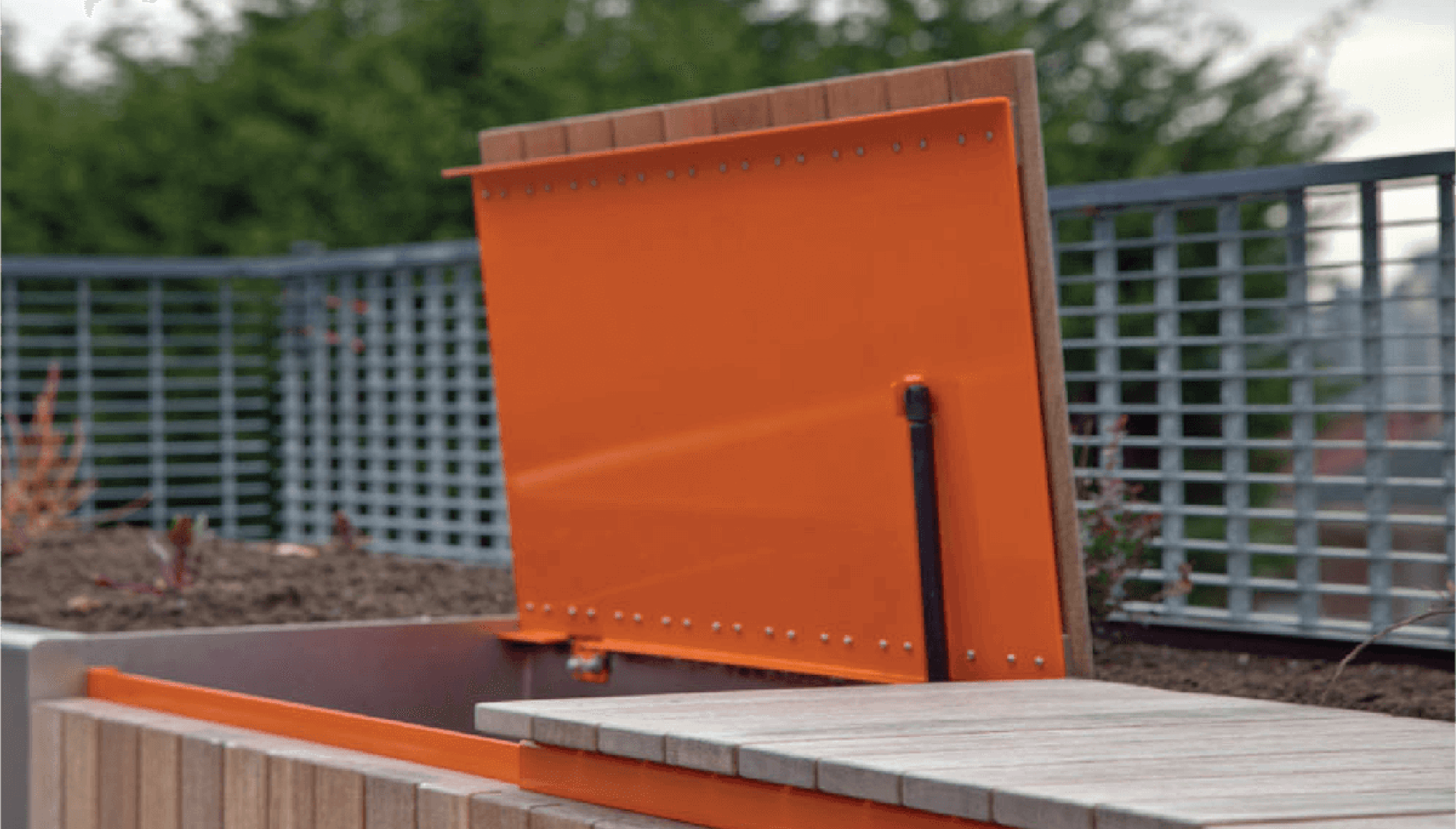 Photo: Architectural Rooftop Garden / with Fresh Digs /

The seats were specially chosen by the client (originals from Florida's Dolphin Stadium). The planters were designed to double as toy bins for the families' young children. These also double as additional seating for deck entertaining.

Have more ideas for your patio?

Terrain offers landscape design in addition to our installation services. Providing comprehensive design services from initial consultations to design development and any required engineering and permit facilitation. Taking a global approach to our design style - Terrains owners have traveled the world extensively, establishing an impressive network of suppliers, consultants, and landscape architects. We believe the world is getting smaller and faster and the traditional way of implementing high-end landscape design is out of date…