Chef Kirsten and Terrain Collaborate to Bring You Exclusive Wood Fire Pizza Recipes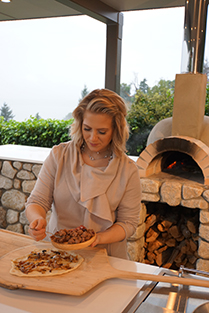 Chef Kirsten is a personal chef and nutrition consultant for professional athletes and high profile clients including several Seattle Seahawks. She is now famous for her inspiring story, inventive & healthy recipes. She has been featured in numerous TV and radio shows.
Using a Terrain built custom outdoor kitchen with an Italian artisan designed custom masonry pizza oven, she shows us some of the incredible food that can be prepared in the outdoor ovens.
Chef Kirsten kicked off the program with some fascinating pizza recipes that you won't want to wait trying! Continuing with her inspired one-of-a-kind recipes she then perfected the classic Paella dish, a rice dish that dates back to the ancient Spanish East coast near Valencia. She will then take you to North Africa for a Moroccan lamb dish that shows the versatility of the oven. Finally, we will explore Tunisian cuisine with a delicious and impressive recipe to bring humble baked eggs to the next level. With these recipes you'll be able to bring flavors from around the globe to your custom wood fired pizza oven as well!
When you're ready to bring the versatility and incredible experience of having your very own wood fired pizza oven to your own backyard contact us to design your ultimate outdoor living experience!
Want more recipe inspiration, including Chef Kirsten's favorite pizza dough and tomato sauce recipe? Chef Kirsten will continue to bring you recipes and tips for using your wood fired pizza oven. Make sure you check in at her website and follow along on the delicious discovery through her social media channels.