FLORA PLANT SERVICES
landscaping
/
April 09, 2019
FLORA PLANT SERVICES by TERRAIN
Terrain has teamed up with the region's top architects and plant farms to bring you the best palette of botanical varieties. Since 1996 we have developed relationships with growers up and down the West Coast ensuring that the species we provide will be the best one available within the budget we have. Terrain can assist in transplanting, re-locating of plants and trees and removal of unwanted vegetation. We are big supporters of plant amnesty doing everything possible to find new homes for healthy plants that are getting removed. Terrain keeps on staff a plant horticulturist to ensure you always have the best advice.
GARDEN PARADISE
This stunning view home project entailed a full landscape installation. Starting with a custom built wood privacy screen, a cascading pond-less waterfall, and custom sand-set bluestone walkways; the front entry was formalized by a large stone and wood arbor. The homeowners are avid garden enthusiasts and continue to maintain this showpiece city garden.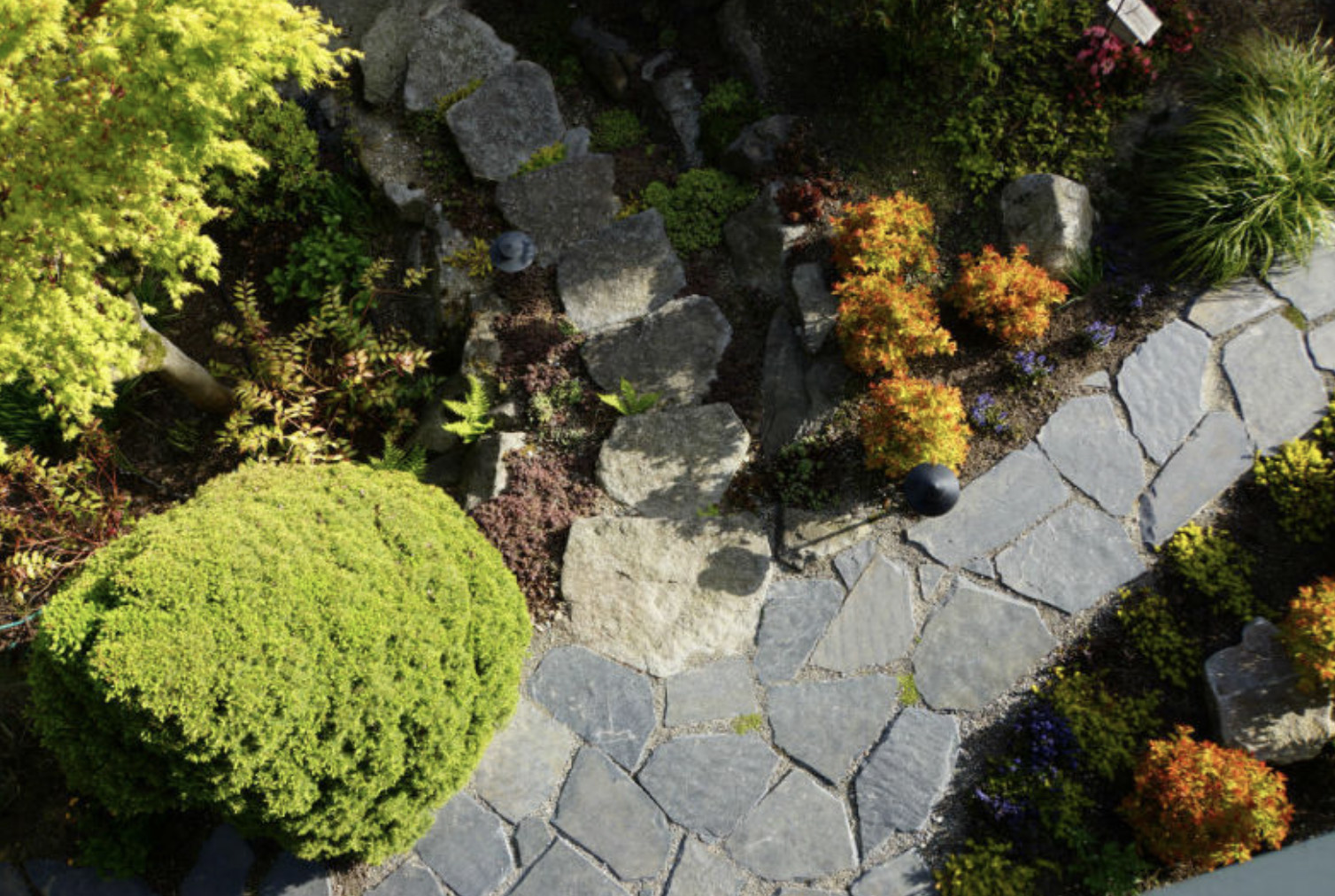 Urban Garden
Designed to be an integral part of this sophisticated estates master landscape layout, the edible garden blends perfectly. The garden always looks stunning year round while providing the clients a fun way to have both fresh edibles and flower cuttings right in their own backyard.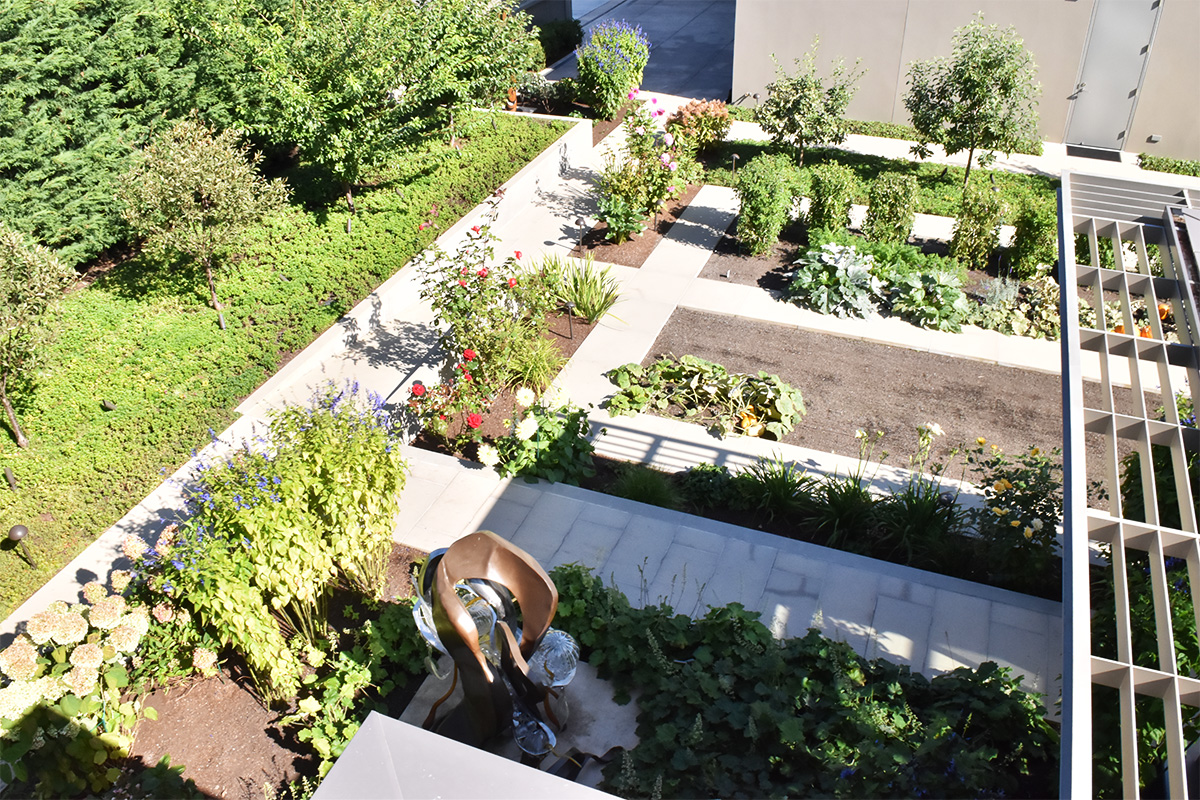 RAIN FOREST GARDEN
This project started with a basement wall leaking below a large concrete front entry that couldn't be removed. Terrain solved this issue by installing a cutting edge waterproofing membrane and flashing detail. Next step was a new mortar set bluestone and railing re-install. The work extended to re-setting of the existing patina patio to retain the mature look and feel. The challenging site was easily accessed using Terrains cubic yard bag delivery.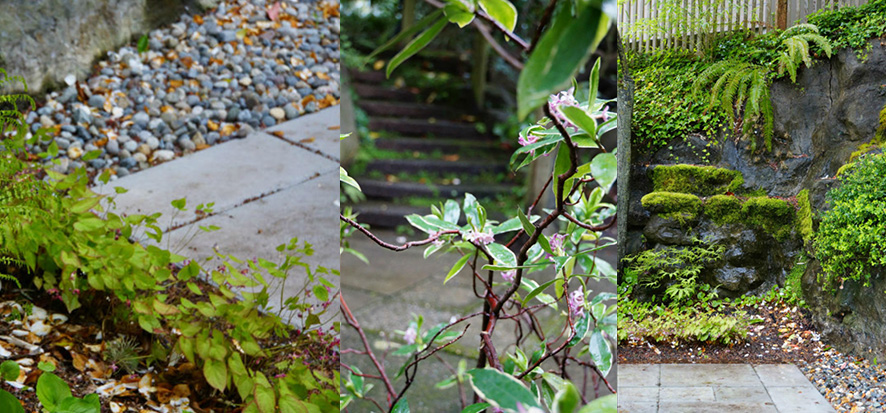 KID FRIENDLY GARDEN
This family with very active growing kids that love sports and a family dog that loves to dig wanted a landscape that could blend in a sport court and family fire pit area. While at the same time being able to absorb a daily ball bombardment. Terrain and the designer collaborated on a steel framed courtyard that provides the sense of an outdoor room and also keeps stray basketballs in check. Using steel panels and a custom laser design the metal frame provides an attractive backdrop and cast a unique shadow design during the day.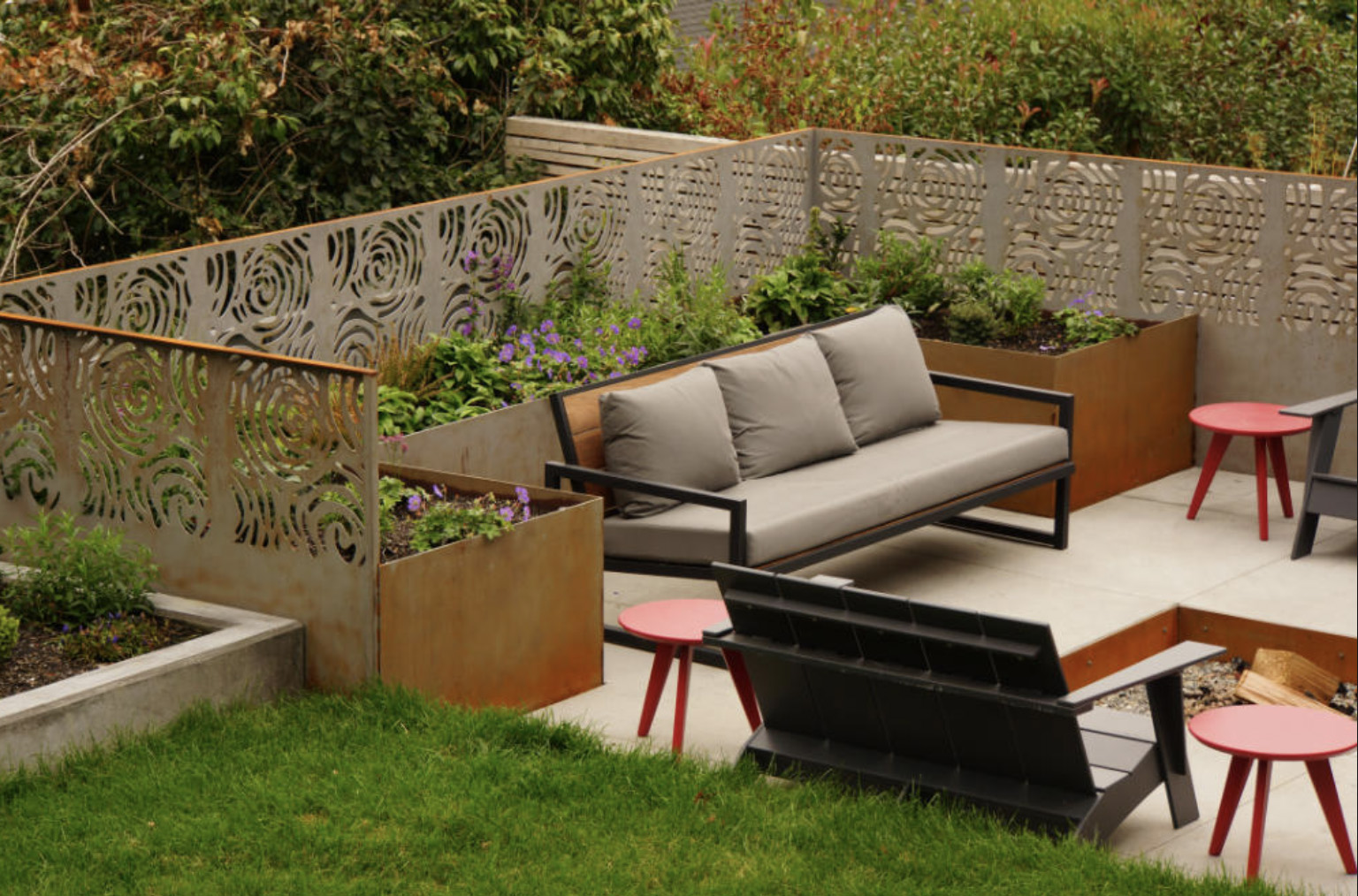 MODERN HERB PLANTERS
This client wanted a no/low maintenance sideward that could be used for outdoor barbequing and an area for the kids to run their bikes. What used to be a treacherous slope down to the adjoining property was rebuilt with a 6' tall property line wall and then an aluminum screening product from Australia was installed to provide privacy and a sense of enclosure. The herb planters were a fun funky addition to add a vertical element and provide easy access for the edibles.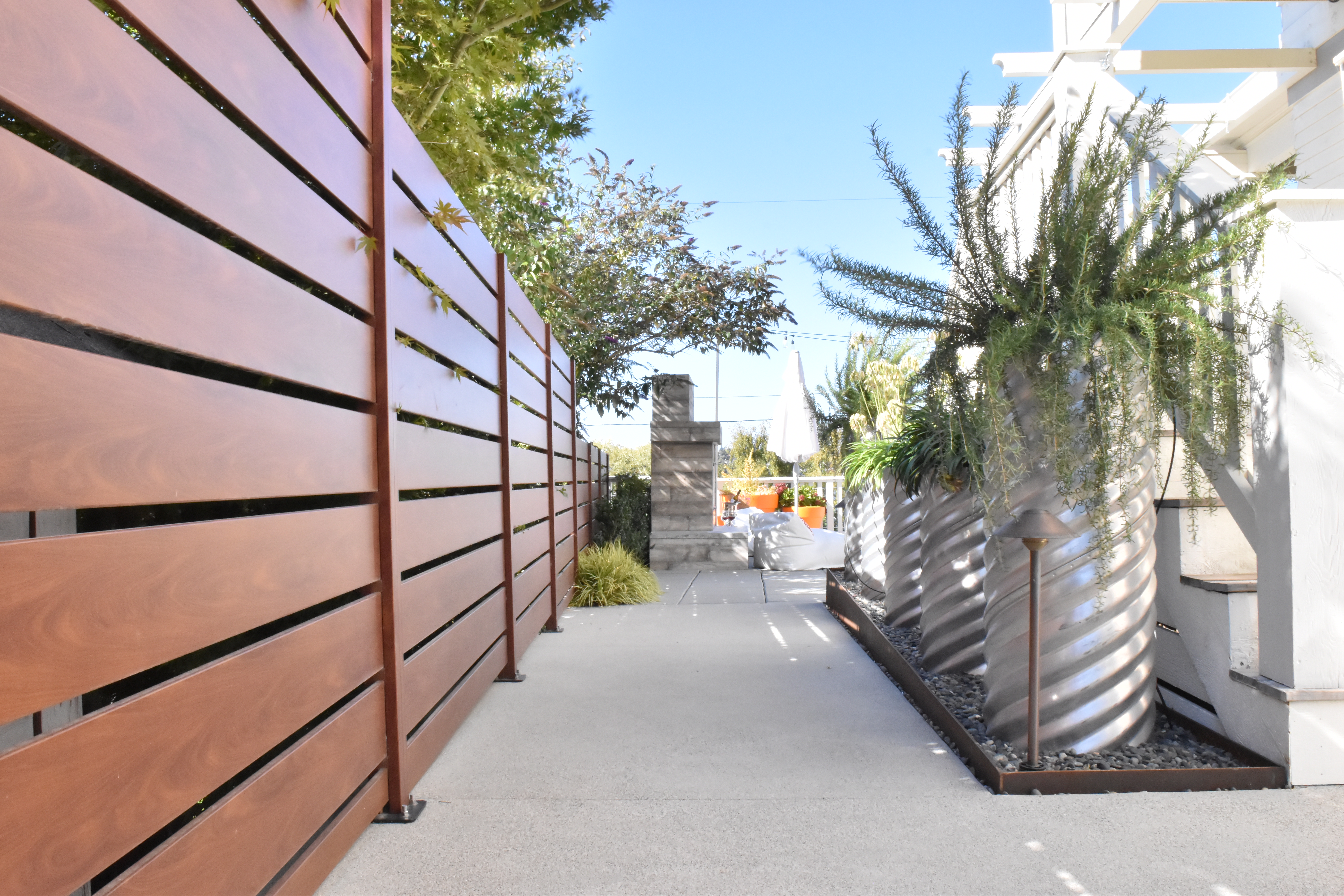 CONTEMPORARY WOODED GARDEN
Nestled in with large evergreen trees, this new entry and driveway project was designed to preserve and enhance the existing native landscape. Using Gabion walls to minimize the excavation requirements, we installed gravel patios to allow the root structures to continue to thrive. This Gabion has a unique plant pocket system that individually supplies irrigation to each of the wall plants. The result is a beautiful living wall.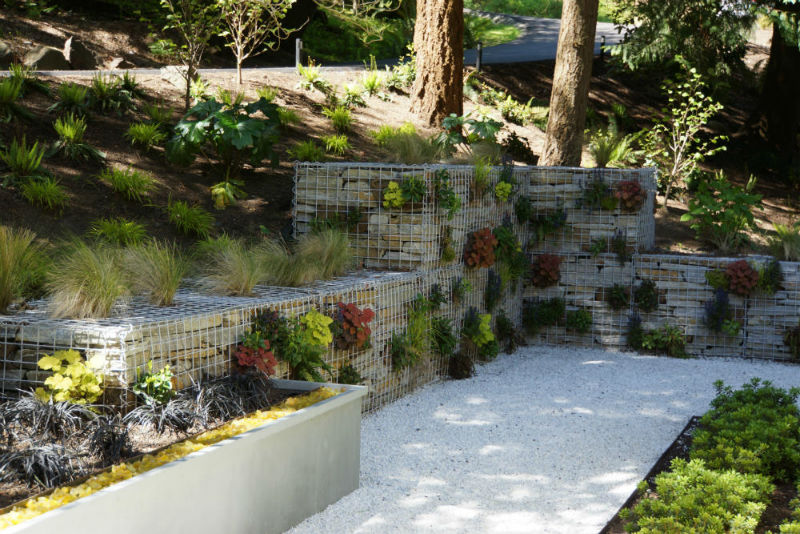 OUR PLANT SERVICES INCLUDE THE FOLLOWING:
Procurement and Install of Plant Material
Plant Relocating
Transplanting
Root Pruning
Large Tree Install
Tree and Vegetation Removal
CLICK BELOW TO SEE MORE OF OUR BEAUTIFUL PROJECTS!
You can also simply give us a call at 206-444-5088 and start planning you project today!